This time we are bringing an enormous collection of speed which can burn the road with their power. For all the speed lovers, here we present some collection of the fastest cars on this planet. You can feel the fire of their speed just by having a look to their aerodynamic shapes.
HERE IS THE TOP FIVE FASTEST CARS IN THE WORLD 2013
1) Bugatti Veyron Super Sport
No car of this segment can beat the speed of this machine. The engine howls the moment you push the ignition. The Bugatti Veyron challenged a record breaking speed during testing in Germany, in 2010 The engine is designed and developed by Volkswagen Group and manufactured in Molsheim, France by Bugatti Automobiles S.A.S.
Top Speed: 267 mph/ 430 kmh
Acceleration: 0-60mph in 2.4 Seconds
Engine: having 8 Liter W16 Engine, 1200 HP
Price: $2,400,000
2) For the second position we have a clash in between Hennessey Venom GT and Koenigsegg Agera R
Koenigsegg Agera R
This is a medium engined sports car which is manufactured by Koenigsegg in 2011. This car is a strong competitor of Bugatti Veyron.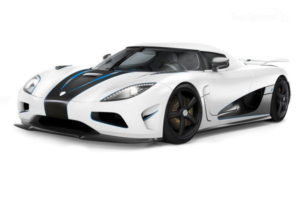 Top Speed: 260 mph/418 km/h
Acceleration: 0-60mph in 2.9 Seconds
Engine: 5.0 Liter V8 with twin turbo engine, 1099 HP
Price: $1,600,000
Hennessey Venom GT
This is an American sports car designed and manufactured by Texas based Hennessey Performance Engneering.
Top Speed: 260 mph/ 418 kmh
Acceleration: 0-60mph in 2.5 Seconds
Engine: 6.2-liter LS9 Turbocharged V8 Twin Turbo, 1200 HP
Price: $950,000