Windows Data Recovery Software to Recover Your Lost or Deleted Windows Data
Deletion of data and damage to Windows system are inevitable as making mistakes is a common human phenomenon.You may experience this situation at one point or the other which may lead to a state of despair. But, what should you do in the event of Windows data loss or deletion? Well, the good news is that a solution is at hand.




Use Stellar Phoenix Windows Data Recovery– Professional to recover your lost or accidentally deleted data from your Windows system or any other connected external device such as CDs/DVDs, flash drives, external hard drives, etc. With this software, you can recover your data without making any changes to its original format. In fact, this software is the perfect solution to all your data loss issues on your Windows.
Benefits
It offers recovery of Deleted files, Formatted Drive, Lost Partition, Email files, Documents, and Multimedia files. Besides, it offers a Deep Scan and supports Resume Recovery for a complete data recovery.
It provides several options such as Create Disk Image, Raw Recovery, CD/DVD Data Recovery, Add/Edit Header, and Advanced Saving Options for safe and secure recovery. It also provides a Bootable Disk for Data Recovery in case of Emergency.
It's Working
Stellar Phoenix Windows Data Recovery– Professional recovers lost or deleted data in three easy steps: Select, Scan, and Recover.
Below is the step-by-step process:
'Select What to Recover' and then 'Select Location'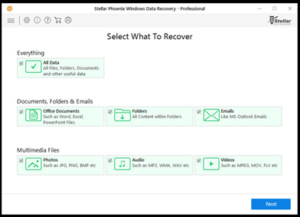 Figure: Select What to Recover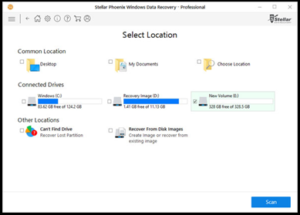 Figure: Select Location
Use the 'Scan' feature to thoroughly scan the selected files and preview the recoverable data. You can use 'Deep Scan' if you are not satisfied with the scan results.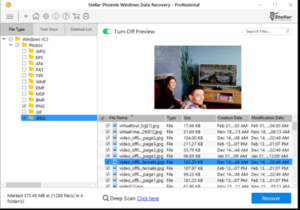 Figure: Preview of the recoverable files
Click on 'Recover' to recover all or selected files and save it to the desired location.
                                 Figure: Recovered files saved at the defined location
Final Thoughts!
All in all, Stellar Phoenix Windows Data Recovery– Professional is a Do-it-yourself and reliable software that can easily recover your lost or deleted Windows data, while at the same time, ensuring your data stays intact.