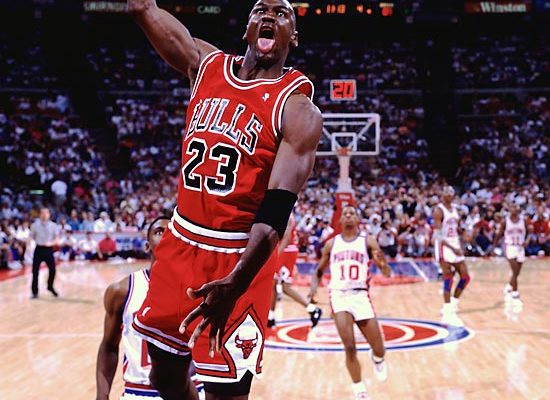 Top Ten NBA Players     
NBA (National Basketball Association) is a very famous sport and the players associated with this sport have their own records and rankings in this world. We present you a list of top ten NBA players.
1. Michael Jordan
One of the biggest and greatest names in the Basketball history is Michael Jordon, almost everyone in this world is aware of this great player and his great gaming style. His complete name is Michael Jeffery Jordon and he was born on 17th February 1963 in Brooklyn, New York. The list of records, awards and trophies won by this great player is innumerable and his talent needs no words for introduction.
Career History
1984 – 1993  Chicago Bulls
2001 – 2003   Washington Wizards
He is a livewire and king of speed, you give him the ball and he will dodge you and run like a bullet on basketball court. His shots are well judged and accurate and his gaming style is different and unique. Kobe was born 23rd August, 1978 in Philadelphia, Pennsylvania, he started playing basketball as soon as he passed his high school. Kobe was the part of Los Angeles Lakers throughout his playing career and won many championships for his team.
Career History
1996 – present  Los Angeles Lakers
LeBron James is another big name in the world of NBA. He was born 30th December, 1984 in Akron, Ohio and played for the Miami Heat. James is a tall guy with a height of 6 ft 8 in and started his basketball career in 2003 after doing graduation. James has won gold medal in 2008 and 2012 Olympics and a long list of many other medals and awards. His main position of playing in his team is forward.
Career History
2003 – 2010   Cleveland Cavaliers
2010 – present  Miami Heat
His complete name is Earvin Magic Johnson and he is a retired American professional basketball player who played for Los Angeles Lakers throughout his career. After seeing his great performance in school and college, the selection committee of Lakers selected him in 1979. Johnson has won many championships and holds several records. This tall player has also won gold medal in 1992 Barcelona Olympics. After his retirement he became the coach of his team,
Career History
1979 – 1991  Los Angeles Lakers
Larry Bird, when you hear this name the first thing comes to mind is his great shooting and rebounding abilities. He was a very good and one of the most accurate shooter in the NBA history. Amongst the total percentage of rebounds in a single game, 50% of rebounds are under his name. Larry was born on 7th December, 1956 in West Baden, Indiana. Larry holds several records and medals including a gold medal which he won in 1992 Barcelona Olympics. After his retirement he became the coach of Indiana Pacers.


style="display:inline-block;width:600px;height:200px"
data-ad-client="ca-pub-7770941721586396″
data-ad-slot="2763174660″>

Career History
1979 – 1992  Boston Celtics
With a great height of 7 ft 1 in this incredible American player rocks the basketball court with his astounding game. His complete name is Wilton Norman "Wilt" Chamberlain and he was born on 21st August, 1936 in Philadelphia, Pennsylvania. He died at the age of 63 on 12th October 1999, throughout his playing career he was one of the most important player of the team. Wilt is the only player in the NBA history to hold the record of scoring 100 points in a single game.
Career History
1958 – 1959  Harlem Globetrotters
1959 – 1965  Philadelphia / San Francisco Warriors
1965 – 1968  Philadelphia 76ers
1968 – 1973  Los Angeles Lakers
Kareem Abdul-Jabbar is an old retired NBA player who was born on 16th April, 1947 in New York City, New York. This American player has played 20 seasons for the Milwaukee Bucks and Los Angeles Lakers. Jabbar was majorly famous for his great height and a unique gaming style and also holds a record of becoming six times NBA Most valuable Player (MVP). This is just not the only achievement or record he is holding, there is a big list of his great performances.
Career History
1969 – 1975  Milwaukee Bucks
1975 –1989  Los Angeles Lakers
Bill Russell is another very famous name in the history of NBA. This great American retired player holds so many records under his name not just in the world of basketball but also as an athlete. During his basketball career his major position of playing was center and he was an expert in man to man defense and shot blocking. Bill was born on 12th February, 1934 in West Monroe, Louisiana. Bill also won gold medal in 1956 Melbourne summer Olympics as a captain of the U.S. national basketball team.
Career History
1956 – 1969  Boston Celtics
9. Shaquille O'Neal
This name needs no introduction, O'Neal is one of the finest players we have in the NBA history. With his great height and size he overpowers his opponents for points and rebounds. He was one of the heaviest players in the NBA history with a great height (7 ft 1 in) and a massive weight of 325 pounds. O'Neal was born on 6th March 1972 in Newark, New Jersey. Apart from his basketball career he is also a rapper and an analyst on a television program.
Career History
1992 – 1996  Orlando Magic
1996 – 2004  Los Angeles Lakers
2004 – 2008  Miami Heat
2008 – 2009  Phoenix Suns
2009 – 2010  Cleveland Cavaliers
2010 – 2011  Boston Celtics
Oscar Robertson is also nicknamed as "The Big O", he is an American basketball player who played for Cincinnati Royals and Milwaukee Bucks during his NBA career. Robertson was born on 24th November 1938 in Charlotte, Tennessee. He was a star player of his team with a long list of records and achievements. He also won gold medal in 1960 Rome Olympics.
Career History
1960 – 1970  Cincinnati Royals
1970 – 1974  Milwaukee Bucks