Top Ten Most Expensive Weddings in the World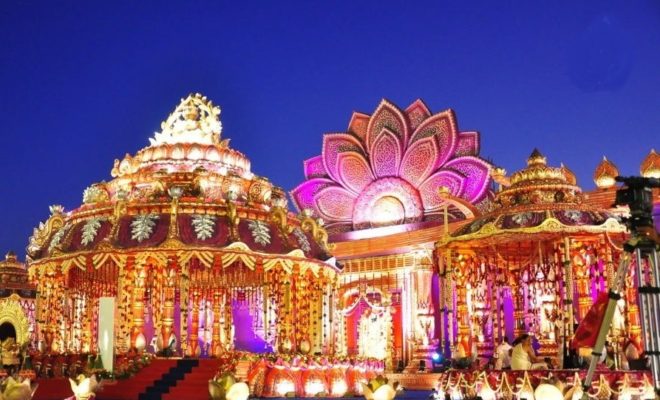 Rich tycoons always love to spend a great amount on functions and parties. What else is best than a wedding, we have some very royal and luxurious weddings whose total expense can shudder your mind. These weddings were just not like simple expensive weddings but weddings that contains the world top class lavish comfort and all the special amenities as per the requirement of their guests. Following are the top ten most expensive wedding the world's history:
1. Haya Bint Al Hussein and Mohammed Rashid Al Maktoum: The most expensive wedding in history that we know cost R $ 165 MILLION. The celebration was attended by over 20 000 guests and a cost that exceeded R $ 165 MILLION. Unfortunately, for the bride, Haya can only see the face of her fiancé after the seven-day festival. Today Maktoum is the Prime Minister of the UAE and Haya UN messenger of peace.
2. Vanisha Mittal and Amit Bhatia: That was the most expensive wedding of the millennium. Were R $ 100 MILLION invested in luxury accommodation for a thousand guests and the party lasted five days in Paris in 2004, also using the Palace of Versailles in celebration.
3. Aleksandra Kokotovic and Andrey Melnichenko: The Wedding of Andrey and Aleksandra had distinguished singers such as Christina Aguilera (who received $ 5 MILLION to appearance) and Whitney Houston. Both came to the wedding of billionaire in their private jets. Wedding cost was $ 50 MILLION.
4. Priya Sachdev and Vikram Chatwal: Vikram Chatwal, owner of the eponymous hotel chain to her, married in 2006 at a party ten days in three Indian cities. The newlyweds seen only at the end of the party in New Delhi, when the billionaire sought his beloved on a white horse. The little party wedding cost only R $ 33 MILLION.