The Millau Viaduct: An Extraordinary Architecture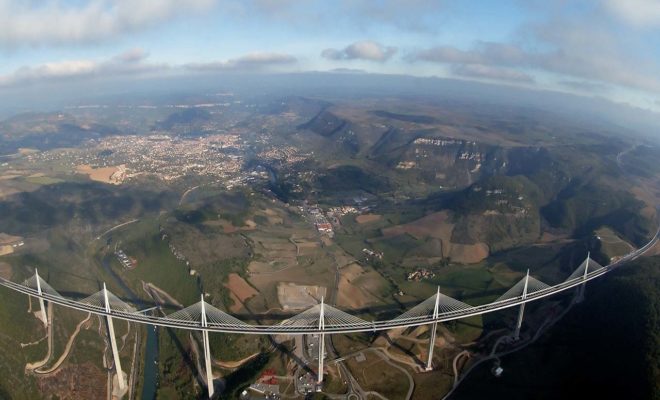 The Millau Viaduct is a cable stayed bridge designed by a French engineer Michel Virlogeux and a British architect named Norman Foster. Built over the valley of the Tarn River near Millau, It is known to be the tallest bridge in the world. It proudly boasts itself to be 12th highest bridge deck across the world with a height of 270 meters between the road deck and the ground level. It cost a phenomenal amount to build the bridge; the construction cost borne was approximately €400 million. Inaugurated on December 14th, 2004, this bridge was opened to traffic on December 16th. Year after year, his bridge has been ranked as one of the greatest engineering achievements till now. In 2006, the bridge was bestowed upon and award for Bridge and Structural Engineering Outstanding Structure. The bridge weighs 36,000 tones & the central pillar of this world's highest bridge is higher than the famous Eiffel Tower in Paris.

Opened by President Jacques Chirac this bridge was praised for its excellence in design by the then President. It was appreciated with respect to its design and was called the 'monument to French engineering genius' and 'a miracle of equilibrium'. The major aim to build this bridge was to cut the travelling time to southern France by removing the major bottle neck at Millau.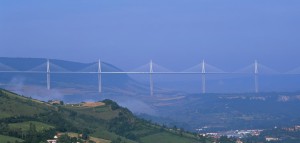 It took 3 years to build the bridge and new engineering techniques were employed to complete it. Usually when a cable stay bridge is built, cranes are used to position different sections of the deck. However this bridge was built by way of a new technique especially devised for this purpose. This new technique was developed due to the exceptional height of the bridge which was 900 feet above the valley floor. Firstly, the towers were built in the usual manner, with steel reinforced concrete. Then the road way was built on both sides of the valley and rolled into position, until it met with precision in the center. This was technique which had never been used before and it carried a huge amount of engineering risks. But in the end, it proved to be a very efficient method of deploying the roadway.

This bridge is one of its kinds in the world and has definitely been a great help in cutting down the travelling time to southern France by removing the major bottle neck at Millau.