Know How to Repair Corrupt or Damaged Videos
Your favorite video files that you saved on your system gets damaged or becomes corrupt! What do you do next?
Well, look no further — the solution is here!
Whether your video files became corrupt or damaged due to improper system shutdown, file header corruption, changes in format, virus attacks,file read and write errors, improper download or compression issues, you can use Stellar Phoenix Video Repair software to repair and make them usable. Be the video files stored in SD memory cards, flash drives, hard disks, or external hard disks, you can repair the files and make them error-free with this feature-rich software that exists for both Mac and Windows-based systems.
Know The Benefits It Provides
The benefits that Stellar Phoenix Video Repair provides are as follows:
        Repairs WMV, MP4, M4V, ASF, MOV, 3G2, 3GP, and F4V files
        Fixes video frames corruption issue
        Fixes errors in video slider movement
        Repairs corruptions in header of video files
        Repairs corruptions in the video files sound section
        Fixes errors in movement of the video files
        Repairs damaged data of the corrupt video files
        Provides a preview of repairable videos before saving
Know It's Working
Stellar Phoenix Video Repair is a guaranteed and powerful software that repairs corrupt or damaged video files in three quick steps: Select, Repair, and Save.
As a first step, you need to click on the Repair Video tab that allows you to add the damaged video files in the software. Add the corrupt videos by clicking on the + button.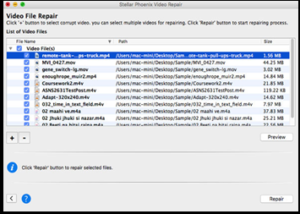 Figure: Adding corrupt video files
Next, click on the Repair tab to remove errors from the videos. After repair, you can preview the repairable files.
Figure: Video file repair process and preview
Click on the Save tab to save the repaired videos free of errors.
3Figure: Saving repaired video files
Finally, save the videos at the desired location.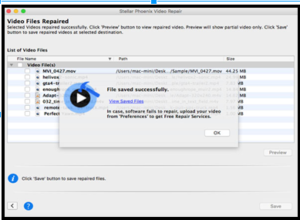 Figure: Video files saved successfully
Final Thoughts
Stellar Phoenix Video Repair is a tried-and-tested software that easily repairs damaged videos in a few clicks. With its easy-to-use interface, you can easily run it without any specific technical know-how and get your damaged video files repaired successfully. It is a name that you can always bank upon to fulfill your purpose of repairing corrupted video files!